Mobile Skin Cancer Treatment

Inspiration to Help More People
After years of treating Skin Cancer in patients in Los Alamitos, Long Beach, Seal Beach, Huntington Beach, Newport Beach, Costa Mesa, and Laguna Beach, Dr. Sleep realized 2 key facts that would help guide her to create Mobile Skin Solutions: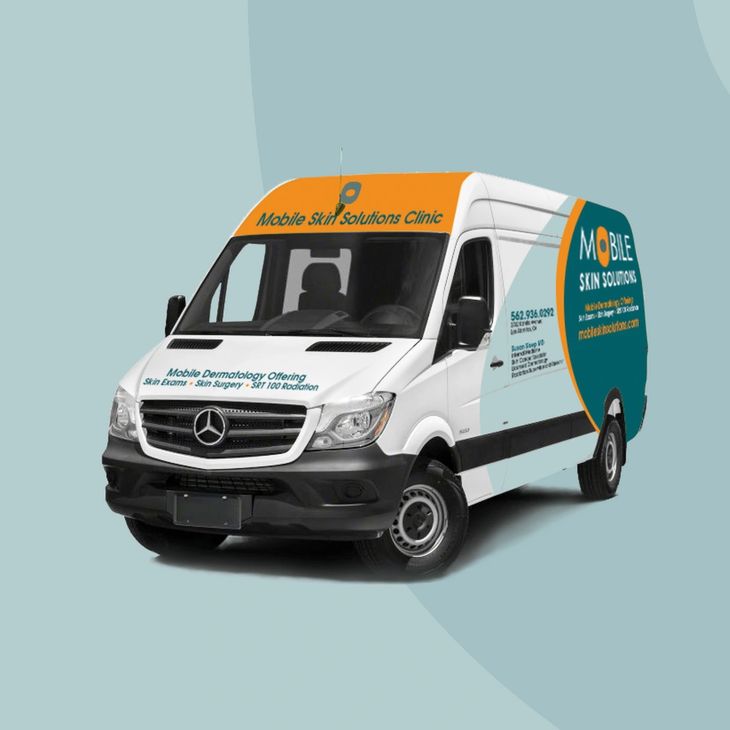 Combining the capability of the Sensus Healthcare's SRT-100 and a fully accessible van, Dr. Sleep established California's first skin cancer treatment clinic on wheels. Today, the MSS Van provides patients in Orange County with a host of Dermatology Skin Treatments, including Skin Cancer Treatment with Superficial Radiation Therapy, Keloids Removal, Skin Exams, Skin Cancer Screening, and Skin Biopsies.
The MSS Team travels to senior communities, senior meeting events, hospital health fairs, and local businesses.  Look for the MSS Van in your community.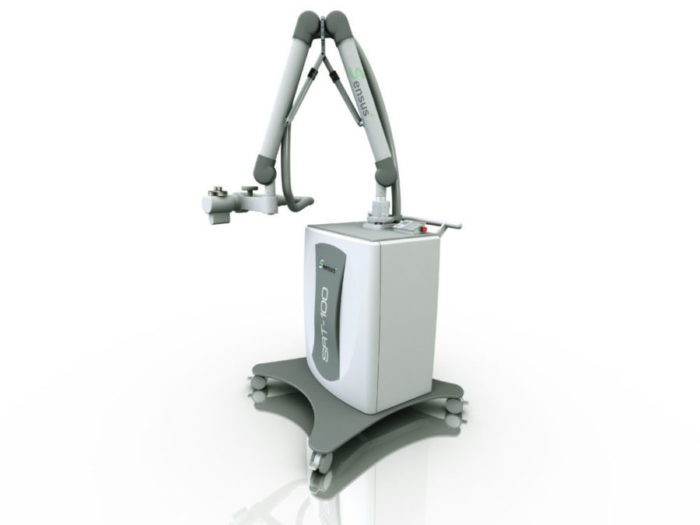 We Treat the Most Common Types of Skin Cancer with Superficial Radiation Therapy
Finally - a non-invasive alternative to Mohs surgery
What is Superficial Radiation Therapy?
Superficial Radiation Therapy targets and attacks non-melanoma skin cancer cells at the source without cutting the skin. There is no downtime and patients can return to their everyday lives right after treatment!
SRT skin cancer treatment can remove lesions on the arms, legs, back, and trunk, and it is especially efficient in treating skin cancers on the face, head and neck. It can deliver a controlled dose of Superficial Radiation Therapy to delicate areas that are hard to treat, such as those along the fold of the nose, eyelids, lips, corner of the mouth and lining of the ear. Superficial Radiation Therapy is also highly effective in the treatment of keloid scars.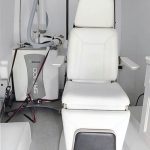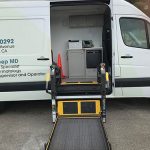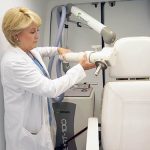 Mobile Skin Care Including Skin Cancer Treatment and More...
Mobile Skin Solutions is bringing state-of-the-art technology to your community to examine, test, and treat non-melanoma skin cancers.
We understand traveling can be difficult. With Mobile Skin Solutions, you no longer have to make the trip to a doctors's office as we are bringing the office to your community!
Our brand new, fully-customized Mercedes Van offers 428.7 cubic feet of space to hold the latest in skin cancer treatment technology while allowing plenty of space for your comfort and it is completely handicap accessible.
Dr. Susan Sleep now offers Skin Cancer Diagnosis and Treatment through our Mobile Service, including a brand new, non-surgical option for skin cancer treatment known as Superficial Radiation Therapy (SRT).
Some of the benefits of SRT include:
The SRT procedure is non-surgical and does not require the use of anesthetics.
A small amount of radiation, yet strong enough to destroy non-melanoma skin cancer cells.
Once the treatment begins, it will take less than 90 seconds to precisely deliver the energy.
You will be required to complete several sessions through a series of appointments, depending on Dr. Sleep's recommendations.
The X-ray will be directed toward the lesion by placing an applicator cone over the treatment areas.
The treatment is painless, but you will notice skin redness by the end of the first week's treatment.
Your safety is our priority! Mobile Skin Solutions follows the strictest health & safety regulations.
Click here to view & download Mobile Skin Solutions' registration with the California Department of Public Health.
Click here to learn more about the COVID-19 virus and how to protect yourself and prevent transmission.
The Mobile Skin Solutions Skin Cancer Treatment Medical Team is led by California licensed, Board Certified Internal Medicine and Skin Cancer Specialist, Dr. Susan Sleep. The Team also includes Kate Stults (Nurse Practitioner) and Sinead Hochberg (Radiation Technologist).